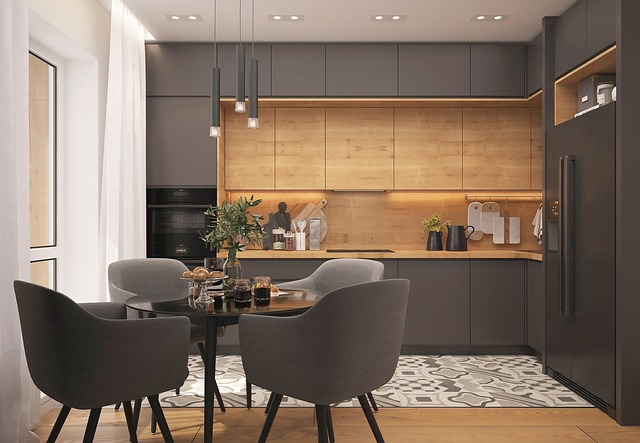 Are you tired of the perpetual battle against kitchen clutter? You're not alone. A cluttered kitchen hinders functionality and detracts from the overall aesthetic appeal. Fear not, as the best interior design solution lies in the realm of custom cabinetry. These clever hacks not only enhance the visual appeal of your kitchen but also provide hidden storage solutions, enabling you to maximize every inch of your culinary haven.
The Power of Custom Cabinets
Tailored to Your Needs:
Custom cabinets are a game-changer in kitchen organization. They are designed to meet your unique needs, offering unparalleled flexibility in crafting storage solutions that optimize your space. The best interior design possibilities are vast, from pull-out racks for sauce bottles to dedicated pantry cabinets. Lower cabinets can be designated for appliances, freeing up precious counter space. Roll-out trays in base cabinets allow discreet storage of pots and pans.
Decluttering Countertops
Deep Lower Drawers:
To banish countertop clutter, leverage extra-deep lower drawers. These drawers are versatile, accommodating everything from utensils to mixer attachments. Their depth ensures a clean, uncluttered look, enhancing both aesthetics and functionality.
Corner Lazy Susans and Vertical Spice Organizers:
Tackle blind corners with corner lazy Susans and vertical spice organizers. These ingenious additions make use of otherwise challenging spaces, maximizing storage without compromising accessibility. They contribute to an organized kitchen where every item has its designated place.
Maximizing Vertical Space
Floor-to-Ceiling Cabinets:
Make the most of vertical space by incorporating floor-to-ceiling cabinets. These towering structures serve a dual purpose – they provide ample storage and utilize upper areas for items that are rarely used. This strategic approach ensures that every inch of your kitchen contributes to organization and functionality.
Pull-Down Shelf Racks:
Optimize upper cabinets with pull-down shelf racks, perfect for everyday dishware. This arrangement keeps counters and lower cabinets free for food prep, creating an efficient and clutter-free workspace.
Concealing and Streamlining
Tip-Out Trays and Roll-Out Shelves:
Under sinks, introduce tip-out trays for a neat arrangement of cleaners, sponges, and gloves. Pantry cabinets benefit from roll-out shelves and trays, offering tidy storage for canned goods, snacks, and baking supplies. Labeling shelves streamlines identification, making it easy to locate items quickly.
Narrow Pull-Out Cabinets:
Allocate narrow pull-out cabinets strategically between appliances. These compact spaces are ideal for organizing electric beaters, blenders, and other small appliances. Their discreet placement ensures that your kitchen tools are within reach yet hidden from plain view.
Creative Solutions for Small Appliances
Full-Height Cabinets with Lift Mechanisms:
For a creative twist, utilize full-height cabinets to conceal small appliances. Incorporate lift mechanisms for seamless accessibility when needed. This innovative approach not only declutters but also amplifies precious counter space.
In conclusion, the art of kitchen organization lies in the thoughtful integration of custom cabinetry. These clever hacks transform your kitchen into a beautifully organized space tailored to your needs.
Bid farewell to the chaos of a messy kitchen and say hello to an elegantly concealed, maximized space. With smart custom cabinetry, your kitchen becomes a sanctuary of order and functionality, proving that organization can indeed be a work of art.