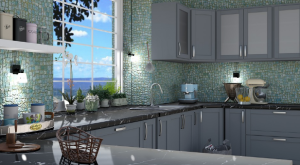 Have a comfortable small kitchen and want to revolutionize it with exciting new ideas? Your small kitchen can be more efficient, organized, and gorgeous with a few exciting small kitchen design ideas. Check out these top trends for 2020.
New Bold Ideas
Do you have a small urban apartment space? A home with a tiny traditional kitchen layout? Maybe you need to use your space for working at home or schooling your kids? Check out these incredible small kitchen ideas hand-selected just for you:
Hide clutter in cabinets with hidden storage
Expand your workspace with a double kitchen island
Move vertically and add extra customizable shelves to the ceiling
Add a sink that doubles as a cutting board space
Better bright custom lighting increases the feeling of space
Add track lighting to increase functional space
Pot racks help store pots and pans attractively in plain view
Invest in hideaway furniture like breakfast bar with stools
Be inventive with wall magnets to store knives and cutlery
Work with a professional designer to revamp your entire kitchen layout
Install a butler's pantry
Add a breakfast bar as an extra nook for work or entertainment
Add wall-mounted tables
Install an electric stove with cooktop cover for extra counter space when not in use
Rolling butcher block adds extra storage and workspace
Use smart appliances to increase efficiency and save on energy costs
Smart speakers can store your recipes without all the cookbook clutter
Add extra décor with artistic backsplashes that run from floor to ceiling
Extra kitchen ceiling lighting will increase functionality and entertainment space
Hang wine glasses attractively over the kitchen to declutter
Design the Kitchen of Your Dreams with Bertone Woodworking
Want the best kitchen design experts? Work with Bertone Woodworking to take your small kitchen space and reinvent it. We can help you transform your small space into a sleek and functional oasis in your home. Call us today. Our friendly experts will be happy to help you.