Finally, you have the home of your dreams and it is time for renovation! Know the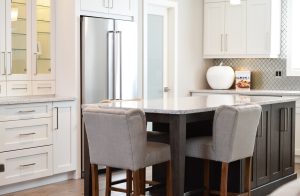 latest and most popular kitchen renovation ideas for this year. From smart kitchens to a more minimalist approach, there is bound to be an exciting idea perfect for you.
Smart Sensors Add Convenience
Welcome to the 21st century where technology is as essential as the food in your kitchen space. Converting a standard kitchen into a smart kitchen is one of the simplest kitchen renovation ideas to truly modernize your home. Besides the usual smart coffeemakers and appliances, you can custom fit your home with sensors and other devices for extra convenience. For example, motion-sensors strategically placed can be added for light fixtures or under sinks.
Easy Tech on Your Phone
There are numerous apps that work with your smartphone to monitor everything from coffee making to alerting you when your pantry items are running a little low. The app "Thyme" can set up to five timers while you cook. What's even better is that you can create a smart kitchen no matter what your budget. From low-cost apps to higher-end custom design, you can upgrade your kitchen to your specifications.
Quartz
More luxurious home use quartz countertops. The minimalist streamlined look is durable, lasting for the lifetime of the home. Additionally, you can be assured that it is very sterile.
Custom Storage Ideas
Functional pantry storage is necessary for today's modern kitchen. Custom cabinetry can be designed to maximize space effectively and attractively. Appliance garages are ideal solutions for appliances. Purchase caddies and roll-out trays for additional convenience.
Pet-Friendly and Kid-Friendly Spaces
The kitchen can have bountiful hazards for young children and pets. Between hot burners, appliances, sharp utensils, and more, it is easy for loved family members and pets to get hurt. A number of child safety features can be added to your kitchen that will prevent little hands from reaching sharp items, burners, or electrical appliances. Creating a custom pet-friendly space with a doggy bed and feeding station can help your pet avoid the hazards of the kitchen. These can be designed into an island or under a countertop. Enjoy convenience and functionality with these trendy renovation ideas for today.