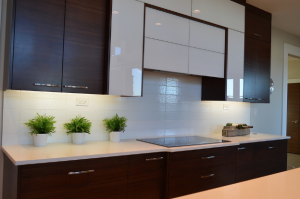 This year refresh your kitchen and your home with brand new kitchen cabinets. What are some of the latest trends in kitchen remodeling ideas this year? Let's find out!
Smart Storage
Whether you have a large estate or a small urban living space, you want to rethink storage in your kitchen. Some of the hottest trending remodeling ideas for your kitchen cabinets this year include maximizing space with hidden storage. This can be anything from hiding spices, cookware, and pantry items in cleverly concealed cabinet storage or adding a decorate standalone cabinet space for items. The look this year is minimalist and clean. Hiding unsightly items will give your kitchen that spacious look.
Metal Hardware in the Kitchen
Going with the top trending minimal look in luxury kitchen design are pewter and fun metal hardware. Add nickel or other metals to fixtures and your kitchen cabinets. Combine with marble, deep black fixtures, and pristine white walls for a stunning style.
Open Shelves
Inspired by luxury hotels, try the elegance of open shelving with your cabinet space. Stock with houseplants, unique dishware, and little trinkets that display your unique personality and tastes. This is a great way to soften a more conservative kitchen space.
Vintage
Is minimalism not your style? Many homeowners are embracing vintage and natural features in their home. Install natural wood cabinets or clear glass cabinets for a mid-20th century vintage look. Showcase your dishware collection. Add vintage chairs, vases, and knick-knacks to complete the look.
Bright Colors
For homeowners that don't embrace elegant black and white design, the hottest trend is going bold with your colors. Contrast neutral toned flooring and walls with beautiful bright blue or green cabinets.
Try these incredible trends for your kitchen this year. You will love the new look!