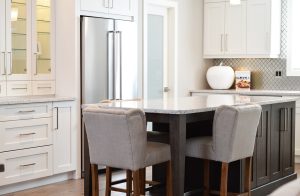 Shaker style cabinets are one of the most universal and easy to match cabinet door styles available today.  No matter what the design of your kitchen, Shaker cabinetry works perfectly, adding quality and timeless style.  What makes Shaker doors work so well, you ask?  Let's look at some of their major benefits.
Ageless Look
Shaker doors are fairly simple in design – they're almost flat-panel, only with a slightly raised border.  That's the main part of their appeal, providing a basic and straightforward look, with just enough detail to catch the eye in a pleasing manner.  Because of this simplicity, they're not something that goes in and out of style; they match well with very traditional looks or very modern ones.  That makes them great for timeless kitchen design, and you can rest easy knowing your cabinets won't look dated in 10 years.
Color or Stain
Shaker doors allow for a wide range of design choices when it comes to coloring.  On the one hand, they take paint and colored laminate very well, and can be painted in a wide variety of colors to match your overall kitchen design.  On the other hand, when you use high quality wood, you might want to show that off – and the broad panels of Shaker doors are great choices for wood stains, allowing the natural wood grain patterns to stand out.
Low Maintenance
The more detail and ridges you get on cabinet doors, the more cleaning you need to do.  These design features trap dust, grease and debris, and can make cleaning a nightmare.  Shaker doors, on the other hand, are very simple.  A quick wipe-down will clean a Shaker door with minimal effort.
Reasonable Prices
Because Shaker doors are relatively simple to construct, they won't blow your budget like more ornate styles would.  In addition, because of their timeless look, you won't feel the need to replace them any time soon, further stretching your design dollar.