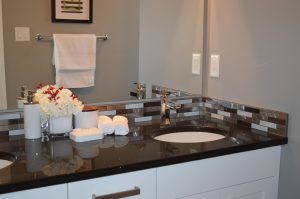 No matter if you have a spacious, luxurious bathroom or a quaint, compact one, your choice of bathroom vanity is very important.  It's a major piece of bathroom hardware, and its features and aesthetics will help control both how you use your room and how it feels to be in it.  Vanities come in a wide variety of shapes and styles, all with their own pros and cons.  Bertone Woodworking can help you find the custom vanity that best fits your needs.  Here are some of the most common types of vanity, as well as how they can help or hurt your bathroom.
Cabinet-Style
The most common type of vanity, cabinet-style pieces are good all-purpose pieces of furniture.  While they take up the most space, you get the benefit of built-in drawers and concealed compartments, maximizing your storage potential.  These can either sit flat on the floor, or come with legs for a more open design.  Our woodworkers can help craft one to fit your measurements, keeping it from overpowering the room and squeezing it into the space you have available.
Pedestal/Console Sinks
A freestanding sink gives your bathroom a sense of visual relief – and the benefit of extra legroom and space to move around in, making it a great choice for smaller rooms.  You do end up sacrificing storage, though that can be alleviated by your other design choices (i.e. medicine cabinets, decorative shelves or baskets and so forth).  So if storage is less of a priority for you – or if you have alternatives elsewhere in your room – a standalone pedestal or console sink could be exactly what you need.
Wall-Mounted Vanities
If you're concerned about the footprint of your bathroom furniture, a wall-mounted vanity might be exactly what you need.  Mounted solely on the wall, these vanities keep open space beneath the sink to the floor, lending an open, airy feel to your room.  Storage varies based on design and your needs, and can be customized to meet your requirements.