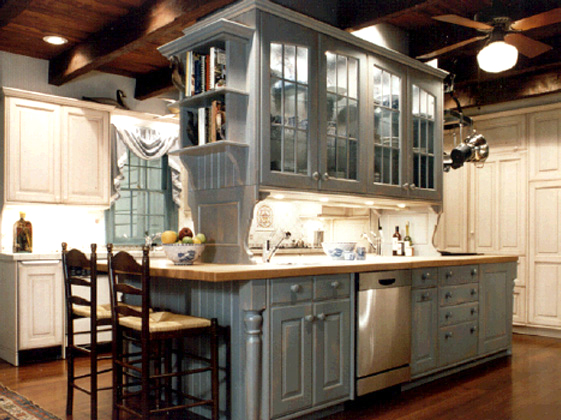 Your new kitchen remodel will make you happy with these exciting custom ideas trending in 2022. Don't worry if you don't even know where to start, or even where to buy kitchen cabinets. We broke down the most popular ideas for contemporary kitchens just for you. Discover exciting innovative ideas that will give your space the dream kitchen you always wanted.
The Butler's Pantry
One of this year's top custom ideas is the butler's pantry. Inspired by centuries ago storage ideas, today's butler's pantries have a modern touch with customized cabinets, beautiful craftsmanship, and wonderful kitchen storage. Use modern storage systems to declutter your home. Some butler's pantries include a handy food preparation area, a coffee station, or convenient wine storage. If you want to know where to buy kitchen cabinets ideal for your customized kitchen remodel, call Bertone Woodworking. We will help you build the ideal cabinetry and storage for your pantry.
This space can also double as a dish pantry, a prep pantry, or even a multi-use space for doing schoolwork. Usually, these pantries are situated in a hidden renovated closet space or just right off the kitchen. The walk-in space has everything from silverware and costly glassware to a sink and linens. Talk with your remodelling team about how you can build a butler's pantry into your home. Some key elements might include:  
Custom cabinets with both ribbed glass fronts and frame-and-panel 
Hidden storage 
Brass bin pulls 
Metal fixtures 
Smart lighting 
Butcher block prep station 
Minimalist backsplash 
Prep sink 
Small appliances 
Simple low maintenance flooring 
Natural light 
Each pantry will have its own unique style. As they are hidden spaces, the overall look remains simple, usually a creamy white or neutral tone. Keep the décor simple and practical.
Food Prep Pantries
With the pandemic, many families found the value in storing up dried goods and food storage. Food pantries doubling as prep pantries have become wildly popular in 2022. Even if your home does not have traditional walk-in pantry space, you can remodel a storage area with custom cabinets to accommodate bulk storage.  
Often food prep pantries have highly organized shelving. They might have upper cabinets, vertical slots for quick storage, and even space for a refrigerator. Your pantry is more than a place to stuff bags of flour or canned goods. Be sure to be organized and plan out what you wish to store. Then speak with our experts at Bertone Woodworking about how we can help accommodate your storage needs with custom cabinetry.
Two-Toned Kitchen Cabinets
Another popular style for 2022 is two-toned cabinets. Homeowners love the unique look they give to a space. Opt for something striking like white upper cabinets and black lower cabinets. Combine the colour schemes with the backsplash, flooring, and accents. Experiment with popular tones like olive green, sunshine yellow, or sky blue. You will be amazed at how beautiful two-toned cabinets can be. 
Call Bertone Woodworking for All Your Cabinetry Needs
With decades of experience in excellent craftsmanship, Bertone Woodworking can help you with your kitchen remodel needs. Contact us today. We will be happy to help you.