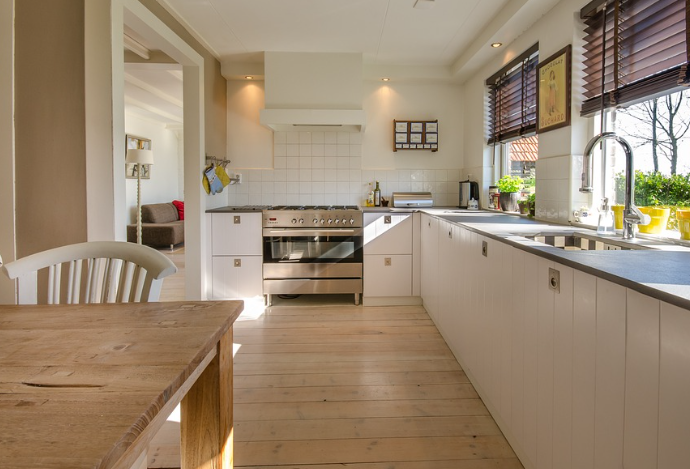 From luxurious industrial kitchens to gorgeous farmhouse-style kitchens, these designs will inspire you to create your own dream million-dollar kitchen. Modern kitchens are designed for convenience and efficiency, and often feature sleek appliances and large spaces that allow for easy access to food preparation. Upgrade your home with these modern kitchen ideas.
Uplevel a Modern Farmhouse-Style Kitchen
A farmhouse-style kitchen remains one of the most popular styles of contemporary kitchens this year because of its rustic charm and timeless appeal. While farmhouse kitchens have been around for several years now, they are still very popular, especially among homeowners who enjoy bringing nature and outdoor life into their home. Upgrading your lighting design, installing gorgeous new cabinets, and replacing mass-produced decor with original artisanal pieces are some modern kitchen ideas that add a little posh to your space.
Opulent and Industrial
Industrial design kitchens have worn concrete floors, exposed brick walls, and stainless steel smart appliances. They also tend to feature large windows, with urban lofts showcasing a gorgeous view of city life. Some other popular features of an industrial kitchen include:
Metal floor lamps
Toned-down colours
Metal fixtures in black steel, brass, and copper
Bar stools
Leather furniture
Energy-efficient stainless steel appliances
While transforming a traditional kitchen into a true modern industrial can be quite a feat – you can accomplish a similar look via a professional remodel. You may need to rethink the overall kitchen layout. Replace flooring and change out old cabinets with sleek new ones. Sit with a seasoned designer and discuss how you can transform your kitchen into a truly unique space.
Minimalism in Your Kitchen
Today's contemporary kitchen has a clean, minimalist feel. It features handcrafted white cabinets, stainless steel appliances, and sleek countertops. Keep colours to a minimum. A popular new take is a two-toned kitchen. Go with ebony and ivory, or try a dark navy and cream look for something different. Minimalism is about simplicity, reducing clutter, and embracing wide, open eating area.
An Elegant Country Space
Maybe you enjoy the comfort of a more traditional kitchen but want a truly impressive kitchen. Update a traditional country kitchen with custom rustic woodwork, large stone fireplaces, and exposed beams. Replace broken cabinets and cracked countertops with gorgeous natural wood. Add custom lighting and add custom window treatments to let in more natural light. Keep decor to a minimum – tasteful and elegant. Sprigs of spring flowers and small pottery made by local artisans will give your space a beautiful yet simple authentic touch.
Contact Bertone Woodworking Today for Your Kitchen Remodel
When you have a new kitchen remodel, contact the expert craftsmen at Bertone Woodworking. For generations, we have proudly built high-quality cabinets for countless homeowners throughout the region. We only work with the best materials. No matter your budget, we promise to create the perfect dream kitchen for you. Contact us today. We would love to help build the kitchen you always wanted.