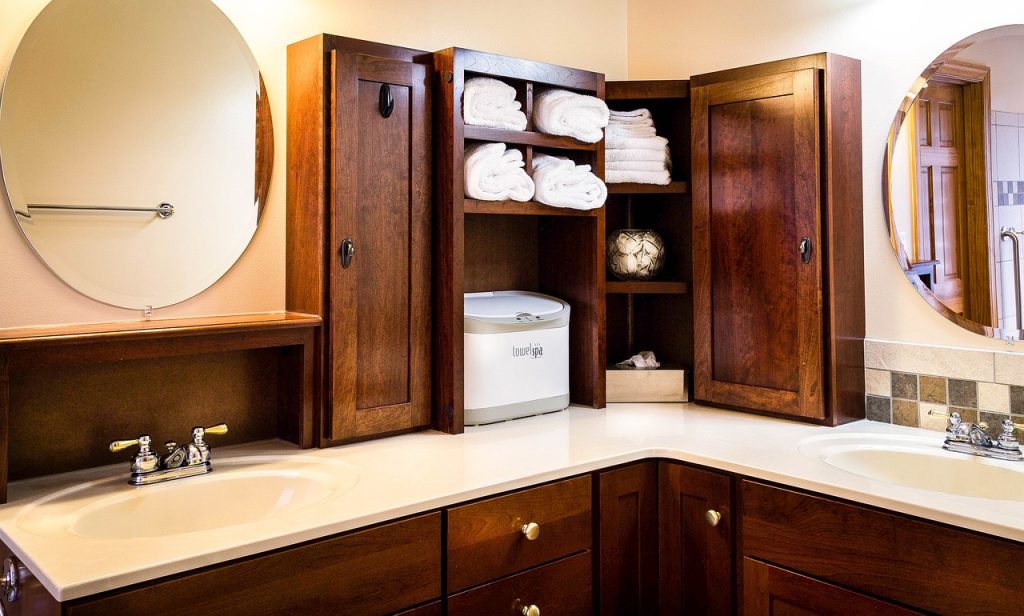 When creating a warm space, there are many cabinet colors to select. However, not all colors in your kitchen will create that cozy atmosphere you are looking for.
If your goal is to create a warm feeling in your kitchen, we've got you covered. Below are some of the best colors you can pick to enhance a warm kitchen.
Color #1: Oak and Mahogany Cabinets
The first color (more of a material) worth mentioning is the classic oak or mahogany feel. These colors of cabinets are traditional, making them often usable in rustic kitchens.
These deep colors are best at absorbing natural light, creating a dark space. For kitchens with a good deal of space, it can help you step away from the "bathroom-like" appearance that comes with tile and other white options.
You should likely avoid painting the walls this color, as it may detract from the brightness of your kitchen. Making a room seem small with warmer colors is suitable mainly if you have abnormally large rooms.
Color #2: Off-White Colors (for Your Walls)
"Off White" is a color scheme popularized by major paint providers like Benjamin Moore. It is called as such because it is close to white but typically mixes with warm undertones.
These neutral tones make them suitable for blending with darker parts of your kitchen. For example, if you have a natural hardwood floor, off-white is excellent for keeping your kitchen looking balanced.
Off-white is usually more prevalent on kitchen walls. So these white paint colors are on one part of your kitchen to color other features (like chairs or countertops).
Color #3: Neutral Paint Colors (for Your Walls)
Neutral paint colors include some of that off-white but also have soft beige colors. These colors are among the warm white that act as a natural balancing act for your kitchen.
Neutral paint colors go well when combined with warmer cabinet colors (like the oak and mahogany example above). So when adding a bit of color or warmness to the kitchen, you need to have an area of brightness.
Color #4: Taupe (for Your Cabinets)
A combination of deep grey and beige creates a color combination called taupe. It originates back to the French usage of the word Mole, but it has expanded to its use of the deep brown color.
Today, taupe is a beautiful deep grey/brown color suitable for use in many environments. On cabinets, you can see their use blend in with a warm (but modern) kitchen.
Because warm and modern can be challenging to approach, taupe creates a unique opportunity. The next time you consider upgrading your kitchen, give taupe a chance.
Final Thoughts
During the cold winter months, creating a warm kitchen typically consists of decorations. With deep brown accents and the light use of rugs, you can make any kitchen to put off that warm fuzzy feeling.
For a permanent method to create a warm feeling, you should consider renovating and replacing your kitchen cabinets. Our team at Bertone Custom Cabinetry can help you make that warm kitchen a reality.