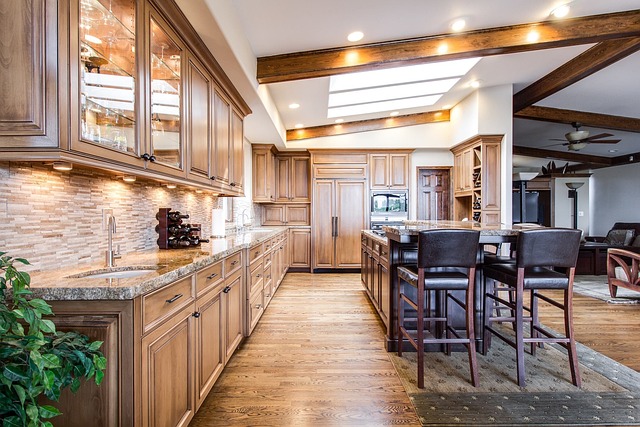 Tired of your ugly kitchen? As a home design pro team, we understand the importance of creating functional and aesthetically pleasing spaces. Find out valuable insights to help you navigate the world of contemporary kitchen design. By avoiding common pitfalls and embracing key principles, you can create a modern kitchen that meets your needs while adding a touch of sophistication.
Dos of Contemporary Kitchen Design
Embrace Minimalism: Contemporary kitchen design often leans towards minimalism, focusing on clean lines, sleek surfaces, crafted cabinets, and clutter-free spaces. Opt for streamlined cabinetry, handleless cabinets, and hidden storage solutions to maintain a clean and uncluttered aesthetic. Talk with your home design pro team about embracing the contemporary with your kitchen.
Prioritize Functionality: A contemporary kitchen should be highly functional, offering efficient workflows and ample storage. Incorporate smart storage solutions, such as pull-out drawers and organizers, to maximize space and keep essentials within reach.
Opt for Neutral Color Schemes: Neutral colour palettes are a hallmark of contemporary design. Choose shades like whites, grays, and earth tones for a timeless and sophisticated look. Add pops of colour through accessories or statement pieces to create visual interest.
Incorporate High-quality Materials: Selecting high-quality materials is essential for contemporary kitchen design. Consider materials like stainless steel, glass, quartz, and natural stone for countertops, backsplashes, and flooring. These materials not only exude elegance but also offer durability and easy maintenance.
Don'ts of Contemporary Kitchen Design
Overcomplicate the Design: Avoid overcomplicating the design with excessive ornamentation or intricate details. Keep the overall aesthetic simple and understated, allowing key design elements to shine.
Neglect Lighting: Adequate lighting is crucial in contemporary kitchen design. Avoid relying solely on a single central fixture and opt for layered lighting, including ambient, task, and accent lighting. This creates a well-lit and inviting atmosphere while ensuring functionality.
Disregard Ergonomics: Contemporary kitchen design should prioritize ergonomics to promote comfort and efficiency. Avoid placing appliances, sinks, and work surfaces too far apart, as this can disrupt the workflow. Design with user convenience in mind.
Forget About Sustainability: Sustainability is an important consideration in modern kitchen design. Avoid using materials that are harmful to the environment and prioritize eco-friendly options. Choose energy-efficient appliances and incorporate recycling and waste management solutions.
By adhering to these dos and don'ts of contemporary kitchen design, you can create a space that seamlessly blends functionality, aesthetics, and sophistication. Embrace minimalism, prioritize functionality, opt for neutral colour schemes, and incorporate high-quality materials. Avoid overcomplicating the design, neglecting lighting and ergonomics, and disregarding sustainability.
We encourage you to collaborate with professionals who can guide you through the process and offer personalized recommendations based on your unique needs. Remember, a well-designed contemporary kitchen can beautify your home. Contact Bertone Woodworking today.