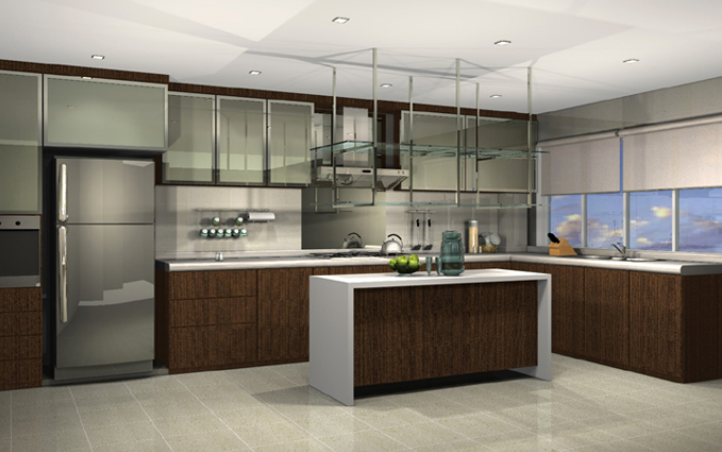 The last two years have taxed us all. Embrace fun and vibrant living with exciting kitchen designs of 2022. What colours are the hottest this year? Our design team put together a list for you. You deserve an exciting kitchen space. The kitchen often serves as the heart of your home. Make it a welcome gorgeous space with these exciting colour trends. You will be amazed at what a simple switch of colours can do! 
Go Green!
Yes, green is in! This year's top colour incorporates the outdoors and nature. What kitchen designs in 2022 should you try? Here are a few:  
Add plant life and foliage to your space
Build custom cabinets in popular greens like ivy or evergreen
Choose deeper green tones for a more dramatic look
Incorporate chairs, a kitchen island, or fixtures in green tones
Both Evergreen Fog and October Mist remain this year's top colors
Add dark green backsplashes and accessories
Incorporate natural materials and woodworking to compliment kitchen colors
Green evokes peace and joy. Believe it or not, when our brain sees green, we feel a sense of happiness. With so many of us unable to travel, having a little bit of the outdoors in our kitchen brings much-needed joy and calm.  
Be Bold with Black Colors
For many years white and neutral tones dominated kitchen trends. This year go bold with black tones. From black appliances to dark cabinets, opt for the dramatic in your life. Not only that but black backdrops and accents add a touch of luxury and elegance to any kitchen. Ask our team at Bertone Woodworking about our special options for cabinetry and fixtures.  
The Two-Tone Kitchen
Not sure if you want to revamp the entire kitchen in one tone? Try two-tone kitchen cabinets. They add a beautiful ambiance and can easily accentuate your modern kitchen. Look for something new and exciting.  
Mediterranean Tones
Accentuate natural wood materials and woodworking with colours evoked from the Mediterranean. Bring in gorgeous yellows, bold red, and green. Combine custom cabinetry and bold colour to enliven the space.  
Calming Blue
Deep blue remains a popular tone for this year. Find a number of ways to incorporate blue into your home:
Glass kitchen cabinets showcasing blue dinnerware and knick-knacks
Ocean blue backsplash
Custom cabinets in an array of blue tones
Accentuate with white or black for a two-tone look
Compliment with gorgeous paintings or photos of the ocean
Create a seaside feel with beach elements
Add custom blue lighting for dinner entertaining
The colour blue brings calm to any kitchen. The colour has unique versatility, fitting in well with both vintage and contemporary looks.  
Call us at Bertone Woodworking today to discuss how we can help you create the kitchen of your dreams. We have an experienced team of friendly professionals ready to help you. Please call us today.