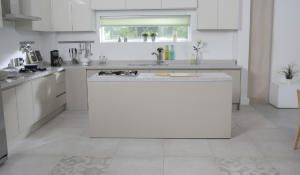 Congratulations! It's time to renovate your kitchen. But with so many kitchen design layout options, how can you decide on the best layout for your home? Your kitchen is the center of your home life. You entertain, cook, and spend quality family time there. You deserve a kitchen that has aesthetic beauty and provides enough space for entertaining and family. What are the most popular layouts?
What factors should you consider when you look at your kitchen remodel? Which design is perfect for your home? Let's talk about the pros and cons of each style. There are basically six popular layouts:
U-Shaped Layout
L-Shaped Layout
Island Floor Plan
Peninsula Kitchen (Also called G-Shaped)
Galley Kitchen
One-Wall Kitchen 
Pros and Cons
Each type of kitchen has distinct benefits and challenges. For example, the U-shaped kitchen gives you ample space for cooking and meal prep. Enjoy an obstacle-free path. The L-Shaped kitchen also provides an obstacle-free space, but has less prep space and is more suitable for studio apartments.
An Island Floor Plan gives you a small kitchen eating area that can be convenient for families. You may have to use the island for both meal prep and serving food. The Peninsula Kitchen has limited eating space, though you can use it as a breakfast nook.
Looking for more efficient kitchen designs? Then opt for a Galley Kitchen or a One-Wall Kitchen. Both of these allow for efficient workflow. They are excellent space-savers. Create the illusion of more space by adding visual elements like custom lighting and open shelving. Limit your number of appliances and ask about hidden storage options.
Call Bertone Woodworking Today
Bertone Woodworking provides the best custom cabinetry and kitchens in the region. Choose from a wide variety of exciting kitchen designs made to order. Talk with our seasoned kitchen remodel experts about building your dream kitchen. We serve a wide area, including Scarborough, Markham, and Pickering. We have been building custom kitchens and bathrooms for years. Call us today.