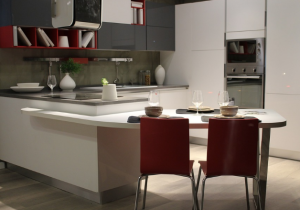 Everyone homeowner renovates their home periodically. Whether it's an upgrade to the appliances or a brand new kitchen renovation, avoid common design and remodeling mistakes as you design the kitchen of your dreams.
Don't Forget Workflow!
Before you start to knock down walls and purchase new cabinets, be sure that your new design fits with your overall workflow. What does this mean? This means that your kitchen renovation should reflect how you use your kitchen. Is cooking a family affair, with kids and adults mingling in the kitchen while you are cooking? Do you have a breakfast nook or need a place to put your Keurig? Do you need new cabinets to accommodate your China collection? Do you need a nook for your pet? It is important to keep all of these things in mind when renovating your kitchen space.
Ignoring Counter Space and Storage
Don't be the homeowner who renovates the kitchen and finds out that all the counter space is gone. Counter space is prime real estate in your home. You can add shelving supports or an island to increase your counter space. Talk with your designer to see how you can extend your overall counter space. Additionally, never underestimate the power of good storage. Maximize the storage in your kitchen cabinets and pantries by optimizing small kitchen spaces.
Missing The Little Details
Remembering the little details during your remodel is important. Think about the overall design and color, the backsplash, and what type of cabinet color best matches your home décor. How does it tie together? Does it fit within the overall look of the home? Don't forget the importance of the appliances that you choose. The kitchen gadgets and appliances in your kitchen may be an afterthought, but they are integral components of your design.
Looking to remodel your kitchen? Be sure to remember these great tips. Build the amazing kitchen of your dreams!