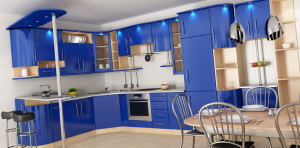 You know it is time for a kitchen upgrade. One of the easiest ways to update your kitchen is to renovate your old kitchen cabinets. Compared to redoing the entire kitchen layout, refurbishing or replacing your kitchen cabinets can be an affordable and attractive way to increase overall home value and bring aesthetic beauty to the heart of the home. Add new kitchen cabinet hardware. Repaint your cabinets. Replace broken cabinetry. Enjoy your new space!
Quick and Easy Kitchen Cabinet Upgrades
If you just want a quick upgrade to your cabinets, you can do a few simple things:
Clean out all the cupboards and throw away unnecessary appliances, expired food, and broken utensils
Replace kitchen cabinet hardware
Add small detail work with stickers
Add a few small plants
Organize your kitchen
These small changes will help you feel less chaotic in your kitchen. It might be hard to toss out that old ice cream maker, but you don't need two. This is a good start to a kitchen upgrade.
Next Level Upgrades
Now that you have cleaned out your kitchen and are a little more organized you can really see where you need improvements. Do you need to replace broken cabinets? Do you need to repaint the cabinets? Replacing the doors or drawers will make a significant difference. Professional refurbishing will make your kitchen look like new. Call our seasoned kitchen design professionals to find out how you can renovate your kitchen.
Custom Kitchen Cabinetry
For a total makeover, replace old cabinetry entirely with new custom kitchen cabinets. We have beautiful custom cabinets created by our artisans. Built to your specifications, using the latest in technology, we can help you create the kitchen of your dreams. Help us make the heart of your home an extraordinary space. Work with our designer to create a detailed 3D kitchen design rendering as we envision your new kitchen.
Call us today. We will help you design the perfect kitchen to fit your unique lifestyle.