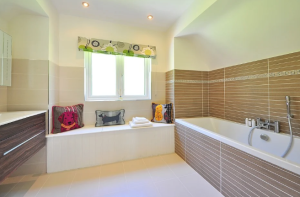 Ready to remodel your bathroom? Time for some serious luxury inspiration. From custom bathroom vanity lights to a gorgeous stone bathtub, discover how you can transform your bathroom into a relaxing oasis. Create the master bathroom of your dreams.
Prioritize Comfort and Relaxation
You deserve a comfortable oasis after the stress of every day. Soothing warm bathroom vanity lights create an ambiance of quiet calm. Add a touch of live florals for extra beauty. If possible, include a window with a gorgeous view or invest in stained glass windows. Include patterns with natural designs inspired by the ocean. Use natural materials for vanities and cabinets. You want to enter your bathroom and feel like you are entering a peaceful sanctuary.
Go Big with the Bathtub
Modern luxury designs include luxury bathrooms made of stone, copper, and other unique materials. Make the tub the showcase of the room. Work with your designer to create a focal point centered on the beautiful bathtub.
Focus on Elegant and Functional Storage
Tired of the clutter? Time for customized bathroom cabinets and vanity. Excellent bathroom remodeling begins with expert design. Bertone Woodworking provides superior design for every bathroom. Whether you need a vanity that accommodates a disability or have an odd bathroom layout that needs improvement, our design team will help you build the elegant space you deserve.
Embrace Simplicity

Simplicity like glass shower doors with custom touches, streamlined design, and a simple monochromatic palette have a timeless look. Opt for materials like classic marble, black or white. Choose simple, geometric cabinets with hidden storage. Use bright lighting or natural lighting. Add beautiful gold or chrome accessories. Add a splash of bold color to brighten the look.
Ready to enter the word of elegant luxury? Contact the design professionals at Bertone Woodworking. We will work with you to design the bathroom of your dreams. With options like custom cabinets, walk-in-showers, and more, we will help you find the right look for your home. Contact our friendly staff today. We pride ourselves on excellent customer service and unparalleled artisanship. Call us today.