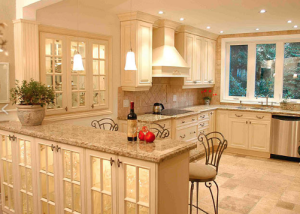 While simple all-white cabinets and counters will have a classic hold on our kitchen design, don't feel like you need to hold on tradition. Try these new exciting ideas for kitchen cabinets and your home in 2020.
Going Marble
Quartz has become a favorite option for your countertops. While Carrara marble remains a favorite, you might enjoy engineered quartz. Both affordable and attractive, clean quartz easily and with less stress. Pair easily with a simple décor or for kitchen cabinets that need an extra pop of elegance. Add handmade kitchen tiles for a unique style and look.
Pops of Color
Avoid the blasé with pops of exciting color. And don't forget painting your ceiling, too! You can paint anything in your kitchen, from wood paneling to cabinets. Add a little dramatic flair to your beautifully dreamy kitchen. The more ambitious homeowners can add exciting patterned kitchen wallpaper. Wallpaper has reclaimed its space in the home. If you want to add some pop but don't want anything permanent, try temporary stickers.
Mix and Match Metals
This year simplicity and monotony have been abandoned for eclectic. Combine different metals for your fixtures and lighting. Change up the kitchen cabinets, maybe combining cool brass or matte white. Add cute accessories and knickknacks that add to the mismatched look. Add an on-trend farmhouse kitchen sink in another metal. Copper accents from hanging pots are ideal.
Secret Storage
Renovate your kitchen cabinets with hidden storage. Add functionality and space by incorporating hidden storage areas. Adapt custom designs to your kitchen's unique space. This is a great option for urban dwellings that have limited space. Include a concealed range hood.
Open Shelving
Open shelving allows you to showcase your antiques and dishes. Redesign your kitchen cabinets with open spaces for storage and beauty. Increase functionality in the heart of your home. The kitchen should be your haven. Redesign your space with an open concept.
Call Bertone Woodworking today about designing the kitchen of your dreams. Our seasoned professionals are ready to help you. Contact us today.