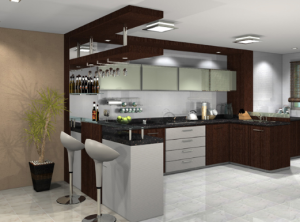 Need more space and functionality in your kitchen? Need to know how to renovate a house on a budget? Check out these great ways to reinvent your kitchen. Updating your kitchen doesn't need to be difficult or give you a headache. The kitchen is the heart of the home. Create the kitchen of your dreams affordably.
Kitchen Cabinet Upgrade
One of the simplest ways to upgrade your kitchen is to update your cabinets. Whether that means simply repairing and repainting them or replacing them entirely with custom kitchen cabinets, updating your cabinets will offer more space and add beauty to your space. Want to know how to renovate a house on a budget? Speak with our talented professionals. With decades of experience, they will help you find a gorgeous kitchen design you can afford.
Lighting
Believe it or not, you can significantly update a kitchen with lighting. Add in extra natural light or install custom lighting fixtures. You want to avoid a cluttered space. More light brings the illusion of more space and enhances the natural wood of the cabinets and fixtures. You want your home to be a welcoming space. Add warmth with lighting.
Open Shelving
Want to open up your space? Try custom open shelving. Quickly make your kitchen much more practical. Display favorite cookbooks, dinnerware, and knick-knacks. Place necessary items in easy-to-reach places.
Remodel the Space
If you have an outdated kitchen or live in a small urban space, your best option may be remodeling the entire space with functionality in mind. Speak with our designers about your space. Discuss what you need and what matters most to you. Focus on creating a place that is both comforting and practical. If you plan on using the kitchen for social gatherings, find innovative ways to open up space for guests like adding a breakfast bar or installing contemporary cabinets that fit into your space.
Hidden Places
Today's kitchen cabinets have many hidden places for dinnerware, serving spoons, appliances, and cookbooks. If you want to keep your kitchen looking spacious, install modern cabinetry with hidden storage. You will be glad you did.
Contact Bertone Woodworking today for your next kitchen upgrade. We provide quality workmanship unparalleled in the region. Talk to our experienced designers today. Contact us.