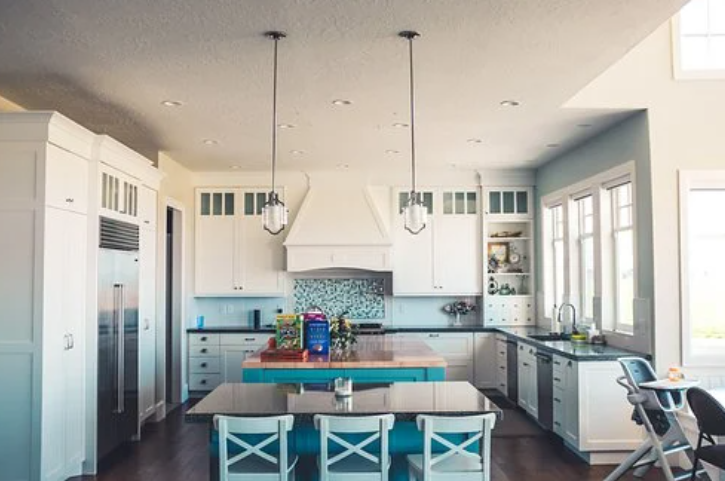 Be inspired to reinvent your kitchen. From open concept cabinets in your kitchen to luxurious double kitchen islands, discover the layout that meets your needs. You deserve a space that is both functional and beautiful. Cabinets in the kitchen don't need to be traditional and boring. Think innovation. The kitchen is for more than food prep and cooking. The kitchen serves as the gathering place for your family, a place to entertain friends and make new memories. Designers today look toward the future and multifunctionality with today's top trending kitchen layout designs. Read on to find out more about the top trending layouts this year.
Open Design Kitchens That Don't Look Like Kitchens
One of the top trending layouts this year is kitchens that no longer look like kitchens. Think of disappearing cabinets in the kitchen, installing sleek built-in stoves, and utilizing an island that doubles as an eating area. Spaces are open, with plenty of accessible room. Hide away custom cabinets and storage. Leave the kitchen looking sleek and modern, with an elegant timeless aesthetic.
The Multifunctional Space
Transforming our homes into beautiful multifunctional spaces is one of the long-lasting impacts of the pandemic and lockdown. With so many families spending a lot of time working and at play in their homes, finding ways to change our homes to accommodate our new lifestyle became necessary. The kitchen is no different. Some ways to transform your kitchen layout this year include:
Installing a small breakfast nook
Adding space for studying or work
Custom kitchen islands with hidden storage space
Seating with built-in storage
Smart lighting
Smart speakers and appliances
Coffee station
With many of us working from home and just spending more time in the kitchen, finding ways to increase the usage of your kitchen makes life a little more convenient.
Luxury Butler's Pantry and Food Prep Station
If you have the space, converting a side closet or pantry into a full butler's pantry will add extra functionality and storage. Use the butler's pantry for food preparation, as a beverage station, or for storing your expensive dishware.
Adding a Lounge Area
Want more than just a breakfast bar? Try a lounge area. Convert a corner of the kitchen into a delightful space for eating, coffee, or just relaxation. Install corner seating and a small custom table with soft lighting. Enjoy reading, working, or just taking in some morning tea in your comfy lounge space.
The L-Shaped Kitchen Layout
While traditional, the L-shaped kitchen layout remains one of the most popular layouts for today's modern kitchen. Easily move between work zones. For a variation, combine a portable kitchen island into the layout. The L-Shaped kitchen works for nearly any size home.
Contact Bertone Woodworking for your next remodelling project. Our experienced team is ready to help you realize the home of your dreams.