Having a beautiful stylish home includes perfection in every r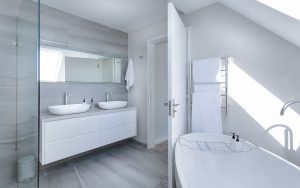 oom, especially the bathroom. Design your own bathroom vanity. Create your own unique style and comfort. Enjoy developing a beautiful haven in your home. From choice of materials to deciding on the final bathroom layout, there are many exciting options to truly make your bathroom your own.
In the Details
When you decide to design your own bathroom vanity, there are many details to attend to. What type of vanity do you need? What layout fits your lifestyle best? How many people will be using the vanity? These are just a few of the questions to ask. Is your bathroom vanity a place of luxury, or will it be a practical space of comfort? Will you be sharing the vanity with a partner, younger family members, guests, or will it be yours alone?
The vanity layout needs to be functional. Choose a bathroom vanity that meets your lifestyle needs. Do you need space for multiple family members and dozens of toiletries? Then opt for efficient horizontal vanities that are stylish but also practical. Maybe you have a little more room in your master bathroom? Other options, like the L-shaped vanity, may be your best choice.
As you design the vanity, give thought to the number of sinks you want. Think both of your needs in the present and possible future needs if your household expands or you have more visitors. One sink may be adequate today, but perhaps two sinks is a better long term option.
Materials and Appeal
Choosing details like the color of the vanity, types of doors, or even what type of drawers you want to include in your design can be fun. Enjoy each second you spend looking at various customized options. Are you traditional? Do you enjoy vintage pieces? How much storage do you need? Do you want to try a pedestal sink, floating cabinets, or perhaps a marble countertop?
As you choose the design that appeals to you, be sure to take note of the materials that you like best while also thinking about quality and durability. Finally, bring light to your bathroom with beautiful lighting, artistic accents, and elegant faucet designs. At the end of the day you will have a beautiful and original bathroom vanity design that you will love for many years to come.