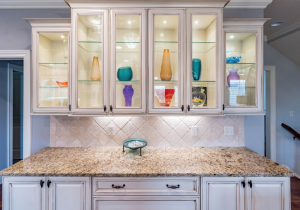 ­Are you getting ready for a new kitchen remodel? What type of cabinets will be perfect for your home? Whether you have white kitchen cabinets or opt for frameless cabinets in bold red, find the right design for you.
What is a frameless kitchen cabinet?
In decades past cabinets often had a similar design. We are all familiar with traditional white kitchen cabinets with Standard swinging doors. The cabinet doors were mounted to the frame. They were flush-mounted or flush with the frame. However, the frameless kitchen cabinet, also known as the European-style cabinet, has become very popular. Why?
The frameless case has superior strength. Producing these cabinets is a simpler process. The doors and Doors do not sit against the frame.  Instead, the doors and doors cover the entire opening. This is called a full overlay which has a sleek anesthetic.
Frameless cabinets have more interior space. With traditional frames cabinets, there is a waste of space because of the drawers. The drawers and pullouts for a frameless cabinet use every centimeter of space. This ingenious construction hides any inconsistencies in the design.
Frameless cabinets have many style options for any home décor. They have many affordable options for any budget. Save a little money on storage when you install frameless cabinets.
Face frame cabinets
For homeowners who want the traditional classic look, face frame cabinets give your kitchen a timeless quality. If you want a more contemporary look add glass doors to display prize China or knickknacks from your travels.  Ask your designer about how you can maximize storage space when you install face frame cabinets. No matter your budget are experts at Bertone Woodworking will help you discover the gorgeous cabinets you deserve.
Partial overlay
You might want to try a partial overlay. With a partial overlay the cabinet doors and wars attached to the front of a face frame cabinets. Some of the original frame shows.
Contact the woodworking experts at Bertone Woodworking today. Our friendly staff will be happy to answer any of your important questions. Schedule your consultation now.