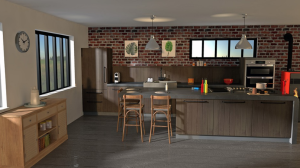 Invest in a new kitchen remodel this year. A new kitchen both increases your home value and improves the quality of your life. Believe it or not, little changes like a new kitchen island, sleek new cabinets with drawers, and a butler's pantry add incredible functionality to your home. And if you want to consider resell value, many new homeowners choose a home-based solely on the kitchen space.
The Dream Kitchen
Many homeowners want a dream kitchen. They want a space that gives them ample room to cook, food prep, and entertain. Sometimes families need a home to change with them. For example, maybe you need new cabinets with drawers easy-to-open for aging adults or much more storage for your growing household.
What do you really want for your dream kitchen? Often choosing new materials, appliances, and cupboards make a massive difference. Here are just some of the most popular kitchen remodel improvements for this year:
Large kitchen island
Farmhouse sink
Custom lighting
New flooring
Hidden storage
Accessibility
Workspace Nook
Breakfast bar
Double dishwashers
Bright blue kitchen backsplashes
Energy-efficient appliances
Smart home technology
Talk with your designer about how you can invest the most in your kitchen remodel. You want a kitchen that increases your home value, adds storage and fits your lifestyle.
Working Space
Today many households use the kitchen for a variety of purposes besides cooking and dining. For example, some schoolchildren may need a study area. A parent who works from home might need space for a computer to work. Discuss with your designer how you can create a multipurpose kitchen complete with designated areas for work and study.
Custom Lighting
Another exciting new trend involves the use of Smart Home technology and custom lighting. Custom lighting creates a more open space and increases the number of usable areas for food prep, storage, and dining. Combine lighting with Smart Home technology for added convenience and use. For example, schedule lights to turn on right before you get home or when you vacation. Sensors can light up the kitchen at night for extra safety and security.
Find the right kitchen remodel for you with Bertone Woodworking. Our experienced team offers high-quality cabinetry, kitchen remodels, and design. Contact us today.