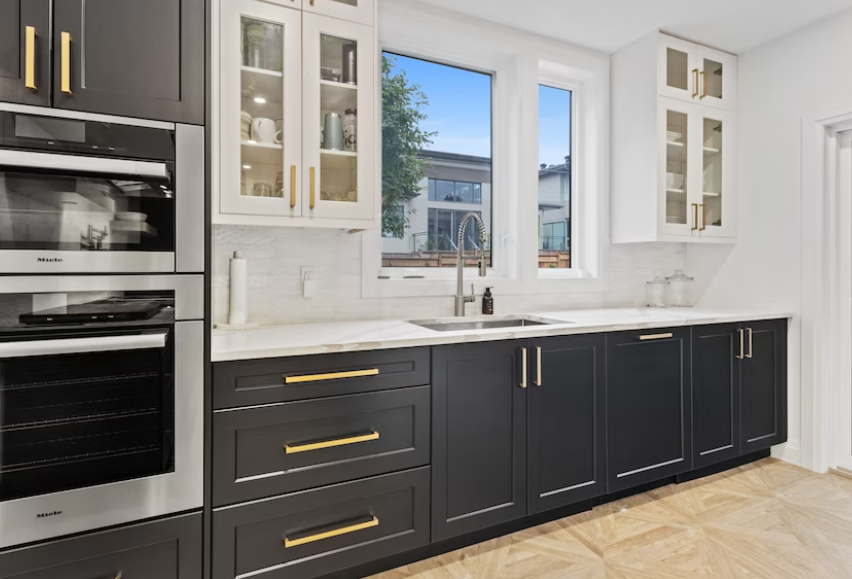 The kitchen is often considered the heart of the home, where delicious meals are prepared and memories are made. However, it's also one of the most utilized spaces, so effective storage is crucial. Custom kitchen cabinets may be the perfect solution if you're looking to optimize your kitchen's storage capacity while enhancing its aesthetic appeal. In this blog, we'll explore various kitchen organization ideas to help you maximize your storage space and create a functional and beautiful kitchen.
1. Customized Cabinet Design
One of the primary advantages of opting for custom kitchen cabinets is the ability to tailor the design to your specific needs. Consider your cooking and storage habits when planning your cabinet layout. Pull-out spice racks, vertical dividers for trays and cutting boards, and specialized drawers for utensils can all be incorporated to make your kitchen more organized and efficient. What other kitchen organization ideas are trending this year?
2. Utilize Every Inch of Space
Custom kitchen cabinets can be designed to take advantage of every inch of available space. This includes corners, which often need more utilized in standard cabinet designs. Lazy Susans, pull-out shelves, or corner drawers can transform those hard-to-reach areas into valuable storage space.
3. Vertical Storage:
Remember to think vertically. Tall custom cabinets can maximize vertical storage space, perfect for items like baking sheets, brooms, or even a wine collection. Consider installing pantry cabinets with adjustable shelving to accommodate various sizes of food containers and kitchen supplies.
4. Open Shelving
Open shelving has gained popularity recently for its practicality and aesthetic appeal. Custom open shelves can display your favorite dishes, glassware, and cookbooks, adding a touch of personality to your kitchen while keeping frequently used items within easy reach.
5. Multi-Functional Islands
Kitchen islands aren't just for meal preparation; they can also provide valuable storage. Customize your kitchen island with drawers, cabinets, or even built-in wine racks to optimize this space. An island with seating can double as a dining area and a storage solution.
6. Glass-Front Cabinets
Glass-front cabinets can create an open and airy feel in your kitchen while allowing you to display your most beautiful dishes and glassware. Custom kitchen cabinets with glass fronts can be designed to complement your kitchen's overall style, whether it's modern, traditional, or somewhere in between.
7. Pull-Out Pantry
If you have a narrow space available, consider a pull-out pantry. These custom cabinets are designed to store canned goods, dry goods, and other kitchen essentials while maximizing space efficiency. They are particularly useful for smaller kitchens.
8. Drawer Dividers
Custom drawers with dividers are excellent for keeping your kitchen utensils and cutlery organized. You can even have custom knife blocks integrated into your drawers for added safety and convenience.
9. Appliance Garages
Appliance garages are custom cabinets that keep countertop appliances like blenders, toasters, and coffee makers hidden when not in use. This helps maintain a clutter-free and streamlined kitchen appearance.
10. Color and Material Choices
Custom kitchen cabinets allow you to select the color and material best suits your kitchen's design. Whether you prefer classic wood, sleek stainless steel, or vibrant colors to make a statement, custom cabinets can be tailored to your style and taste.
Contact Bertone Woodworking Today
Investing in custom kitchen cabinets is a smart decision for anyone looking to maximize storage and elevate the overall look of their kitchen. Working with a skilled cabinet designer at Bertone Woodworking, you can create a kitchen that meets your practical needs and reflects your unique style and personality. Say goodbye to clutter and hello to a more functional and beautiful kitchen space. Call us today!