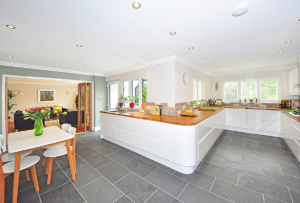 Kitchen remodels are very popular for new homeowners. Home remodeling allows a homeowner to truly take a house and make it into their own unique home. Even seasoned homeowners find that over time a kitchen needs new functionality and updates. But what are the costs associated with kitchen remodels? How can you calculate these costs? What does a kitchen remodel truly involve?
Budget First
Before you change a single appliance or tear down a wall, be sure that you budget for your kitchen remodel. Why? Home remodeling has many hidden costs from actual materials to labor costs. Additional problems can surface while remodeling that can lead to more costs. Because of this, it is important to know from the outset how much you plan to spend.
Low-end renovations can start from fifteen thousand dollars and run up to six figures for high end builds. Your budget should depend on a few factors, including how long you plan on living in the home and what you need versus what you want. For example, if you need the kitchen to be accessible for someone with limited mobility that should take precedence over a higher end refrigerator, which might be nice but won't add that much functionality to your space. Also, if you are only renovating to resell in a few years, you might want to avoid expansive renovations. For families planning to stay in their home for more than five years, keep your family's needs over time in mind.
Costs to Factor In
You want to consider the length of the project, the location of your home, the weather, and if you plan on doing any of the work yourself. Do you need to buy new cabinets or appliances? Do you need to tear out a wall? Factor all of these into your budget. Unlike simply repainting a bedroom, a full kitchen remodel involves work with plumbing, electricity, and demolition that is usually best for professionals. Depending on the extent of your remodel, you also might need an architect, who charges an average of over one hundred an hour.
Materials
What materials should you use? Speak with a professional about options available to you. If you are interested in resale value, be careful about what you choose. Some materials, while luxurious, may not add significantly to the resale value of your home. While updating your kitchen will inevitably increase the value of your home, especially if you are taking a very dated space and modernizing it, taking an average kitchen into the space age might cost more than the resale value. Remember how long you plan to live in the home when factoring in materials, which can make up about eighty percent of the total cost of the project.
Call a professional today about your upcoming kitchen remodel for the most precise estimate for your home. They can help you find the perfect design that meets your needs.