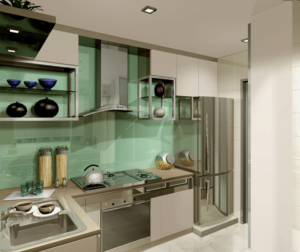 The urban dweller has a unique set of needs, not to mention style. Finding the perfect kitchen design ideas for your urban home often involves a little imagination, a touch of practicality, and the perfect woodworking to bring out the best in your home.
Space
Urban kitchens are often limited in space because of apartment and condo living. Square footage sacrificed for being in the center of the city means that the savvy designer has to make the most of their kitchen. The trick is not sacrificing style with functionality. Options include opening up a kitchen space by knocking down walls and incorporating pieces that seem spacious but have hidden functionality. Monochromatic colors or white paint, adding tasteful but fun decorations, unique woodworking, and custom cabinets can also add a little bit of style without sacrificing space. Don't forget the power of great lighting fixtures and natural light from spacious windows.
Dual Purpose
Open shelving lets your flea market dishware finds and knick-knacks double as personal style statements. Installing an island that doubles as a breakfast table and butcher block or recessing the refrigerator into the customized kitchen cabinets creates dual purpose, saving you space and money. Think outside the box when deciding the perfect kitchen design ideas for your urban home. Remove unnecessary walls to engineer a little breakfast nook or maybe use exposed brick as the showcase of your industrial style kitchen.
 Remodel
Maybe there are unnecessary fixtures, a space-hogging island, or large cabinets that detract from your apartment. It might be time to remodel your home. Decide what type of kitchen layout (ex. L-shaped or U-shaped), kitchen island, and style best suits your urban home and your distinct taste. Pick out fixtures, lighting, and colors that match. One of the biggest benefits to remodeling the kitchen, as opposed to working with what was left by the previous owners, is that you can work with designers to create custom cabinets, woodworking, and fixtures that are perfect for the space.
Remodeling your urban home does not need to be a lengthy or even expensive process. Work with a talented team of designers to customize a kitchen that meets your particular urban needs.