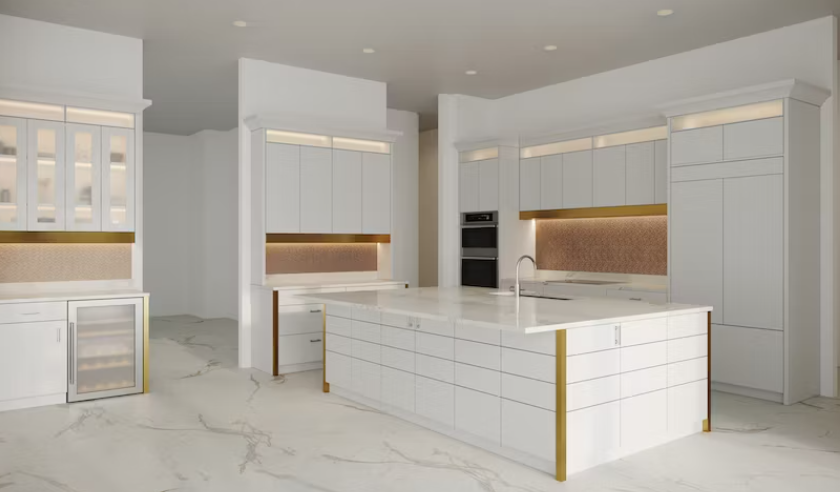 The kitchen is the heart of the home. When it comes to kitchens and bathrooms design, custom wooden cabinets are a timeless and elegant choice. As we dive into the latest kitchen trends of the year, it's no surprise that custom cabinets continue to be in vogue, offering both functionality and aesthetic appeal. In this article, we'll explore the different styles of top trending custom cabinets in 2023 and how they provide innovative storage solutions for your kitchen.
1. Shaker-Style Cabinets
Shaker-style cabinets have been a classic choice for generations, and they're making a strong comeback this year. Known for their simple, clean lines and recessed panel doors, these cabinets exude a timeless charm. Shaker-style cabinets work well in both traditional and modern kitchens and bathrooms. They provide a versatile canvas that allows you to experiment with various finishes and hardware to achieve your desired look. Their versatility is matched by their durability, making them a practical choice.
2. Slab Cabinets
Slab cabinets offer a sleek and contemporary design that's becoming increasingly popular in modern kitchens. These cabinets are characterized by their flat, unadorned doors, which create a seamless and minimalist appearance. They often come in a variety of wood finishes, providing a warm and inviting atmosphere. Slab cabinets are stylish and easy to clean, making them a practical choice for busy kitchens.
3. Glass-Front Cabinets
Glass-front cabinets are a versatile trend that adds an element of elegance to the kitchen. These cabinets feature glass panels in their doors, allowing you to showcase your most prized dishes, glassware, or collectibles. They are available in various styles, from traditional mullion designs to frameless, contemporary options. Glass-front cabinets create an open and airy feel, making them perfect for smaller kitchens or to break up the visual weight of solid wood cabinets.
4. Two-Tone Cabinets
Two-tone cabinets are a striking trend that can add depth and visual interest to your kitchen. This style involves using two different cabinet colors or finishes in the same space. For instance, you can opt for darker lower cabinets and lighter upper cabinets or mix wood finishes with painted surfaces. Two-tone cabinets provide a dynamic and layered look that adds character to your kitchen design.
5. Open Shelving and Floating Cabinets
Open shelving and floating cabinets have gained popularity for their contemporary and airy appeal. Open shelving allows you to display your favorite kitchen items, from dishes to cookbooks, adding a personal touch to your space. Floating cabinets, on the other hand, create a sense of lightness and can be used for both storage and decorative purposes. They work well in modern kitchens, creating an uncluttered and minimalist look.
6. High-Gloss Cabinets
High-gloss cabinets have a sleek and reflective surface that adds a touch of luxury to your kitchen. These cabinets are available in various colors and create a modern, high-end look. They reflect light, making your kitchen feel more spacious and open. While high-gloss cabinets require regular cleaning to maintain their shine, they are a trendy choice that can elevate the overall aesthetic of your kitchen.
From classic Shaker-style cabinets to sleek slab cabinets, glass-front cabinets, and two-tone designs, every kitchen has a custom cabinet style. Whether you prefer a vintage, rustic look or high-gloss modern cabinets, you can achieve a trendy and functional kitchen design that suits your style and makes your kitchen a focal point of your home.