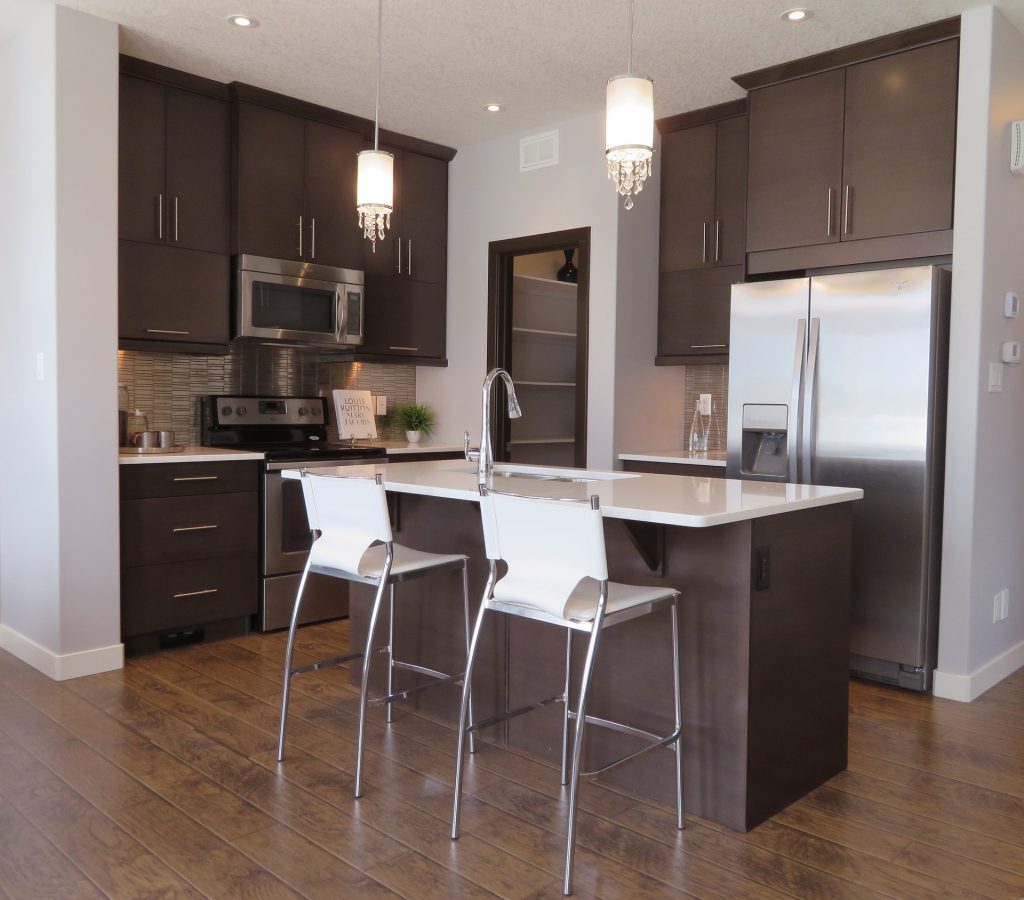 Transform your kitchen into a stunning space with these unique and distinctive modern kitchen cabinet design ideas! Say goodbye to dull and dated kitchen cabinets and give your room an instant style refresh with new kitchen cabinet colour trends. From sleek and minimalist to cool and contemporary, these designs will elevate your kitchen with a timeless yet fashionable new look.
Open Shelves with Statement Lighting
Instantly add style to your kitchen with open shelves! Think beyond traditional upper cabinets and opt for open shelving, letting the walls be the statement piece in this design. Style your shelves with unique decorative items such as modern art pieces or pot plants. Top it off with stylish statement pendant lighting to add a luxurious touch of detail. New two-toned kitchen cabinet colour trends make a bold but elegant statement.
Colourful Cabinets
Brighten up your kitchen with vibrant and colourful cabinets. Bright colours pair nicely with the contemporary feel of stainless steel appliances and countertops. Get creative with various styles from sleek and minimal handles to traditional or colourful knobs—the possibilities are endless when transforming your boring cabinets into something interesting.
Try Metal
To give your space a modern industrial look, consider metal cabinets and drawers! Metal cabinets come in various colours, styles and finishes to match the overall aesthetic of any kitchen. From brushed copper to stainless steel, choose from unique metals that add sophistication and elegance while still being low-maintenance and easy to clean.
Sustainability in the Home
One trend to watch out for in kitchen cabinetry in 2023 is using sustainable materials such as bamboo or recycled plastic. Natural woods are also making a comeback, as well as open shelving designs to create an airy and modern look.
Two-Toned Kitchen Cabinet Design
Another popular option is two-tone cabinets featuring light and dark colours for an eclectic statement. Matte finishes, metallic hardware, minimalistic designs, and mixed materials are also great ways to make your kitchen stand out.
Eclectic Kitchen Backsplashes
From Mediterranean tile to sleek stainless steel, there are plenty of kitchen backsplash ideas available for any cabinetry style, from modern to traditional. If you're looking for a new way to add life, personality and pizzazz to your kitchen space, try on-trend backsplash ideas that your kitchen remodellers can easily customize based on your existing cabinetry and decor.
Create an Unusual Focal Point With a Unique Installation
Take cabinet design to the next level by creating a unique focal point with an impressive installation. This could mean featuring a particular one-of-a-kind piece of furniture or an unexpected addition like frosted glass walls, shelving that networks around corners, distressed wood finishes, or open storage for collector's items. These random details add visual interest to your modern kitchen cabinets and stand out.
When you want high-quality craftsmanship, call the experts at Bertone Woodworking. We have provided hundreds of happy owners and businesses with gorgeous cabinetry for years. Contact us today for your initial consultation. We would be delighted to talk with you.