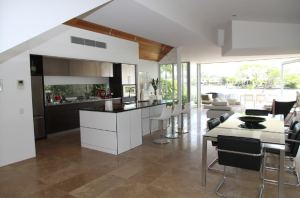 From bold backsplashes to custom cabinetry, today's kitchen designs are full of innovation and bold looks. What are the top trends for 2020? Let's check out the hottest kitchen designs you will absolutely love this year.
Amazing Marble
Marble speaks of luxury and an artistic aesthetic that is unmatched. Whether you opt for a marble countertop or use the material for accents, you will love the return of classical marble. Marble does need special maintenance and often has a higher cost. What are the kitchen trends for 2020 design with marble? High-end marble countertops with natural colors will make your kitchen stand out. Use marble as an attractive slab backsplash behind your oven.
Tired of your dysfunctional kitchen cabinets? Are they drab and old? Or maybe you need to update your cabinets to reflect changes in needs. Custom cabinetry allows you the benefit of having cabinets that perfectly fit your space. At Bertone Woodworking, we excel in creating exciting cabinets for every homeowner. Check out these top trending ideas:
Subtle grained ash, oak, or walnut wood cabinets
Hide pantry items, pots, and spices in clever hidden storage
Accommodate dual dishwashers or a double island
Use glass doors to display prized China
Incorporate custom lighting
Use colorful lights to create an ambiance
Dark cabinets create incredible drama
Add bold color accents when you design your cabinets
Make your home much more functional
Create an accessible design with lower cabinets and easy-to-reach drawers
Contemporary free-flowing design with push-open drawers
Incorporate luxurious gold fixtures
Embrace every nook and cranny
Are you ready for an exciting cabinet design? Contact the woodworking specialists at Bertone. We are ready to help you find the perfect cabinet designs for your home.
Cool Colors and Natural Lighting
Spice up a white kitchen with beautiful blue cabinets and pops of cool colors. Combine with natural lighting and bronze fixtures for a calm comforting look. Display natural items and live plants to complete this unique look.
Contact the kitchen experts at Bertone Woodworking today. We will help you design the perfect cabinets and designs to fit your unique lifestyle and budget. Our kitchen remodels will transform any space into a gorgeous culinary oasis. Call us today.