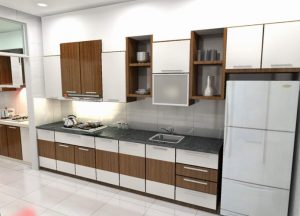 Enjoy a variety of kitchen cabinet door styles to fit your style choices and design preferences. There are many options to choose from. Select from rustic, contemporary, shaker, traditional, and more. Find the right cabinets options for your style preferences. There are beautiful options for every type of décor and theme.
Flat and Raised Cabinet Doors
Both flat cabinet doors and raised cabinet doors offer their own unique style. Flat kitchen cabinet door styles are perfect for a clean contemporary look. It is sleek, although it can also fit with a more traditional kitchen design. Raised cabinet doors may be one of the more traditional cabinet door styles, but they are very stylish and come in a variety of finishes.
Slab Cabinet Doors
This unique cabinet style differs considerably in looks from the flat and raised cabinet designs. They have no frames or panels. Contemporary homeowners may select this option for its unique stylish look. They come in many finishes like alpine, SoHo, satin white, and maple. There are also flashier options in ruby red or other unique customized colors. Speak with your contractor about what options are available.
Accent Cabinet Doors and Customization
Go for a truly customized look that meets your unique style with an accent cabinet or customized doors. These can include beautiful glass doors that allow you to showcase your China and spices collections, mullion doors, aluminum frame doors, rattan or mullion doors. Leaded glass, for instance, has many unique patterns from traditional to very modern. Stainless steel panels offer a very sleek contemporary style. The traditional louvered door may work for more traditional kitchen designs that hint at the beauty of nostalgia.
There are a variety of patterns, finishes, and colors available. These accent doors are typically not used throughout the entire kitchen, but more as stylish accents to offer unique style. Speak with your designers or contractor about your overall theme in your kitchen. Combine unique patterns, finishes, and designs to complement your home. Select the perfect option that shows off your distinct taste.