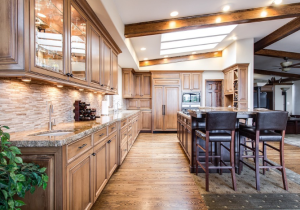 This year proves to be the year of natural looks, minimalism, and sustainability. To kitchen cabinet colors in natural wood finishes to sustainable accessories with an artisan touch, learn the hottest design and home decorating ideas for 2019. What designs work best for your home?
Bold Kitchens
While simplicity is in and kitsch is out, bold patterns are coming back to our kitchens. Choose monochromatic kitchen cabinet colors and add a bold backsplash and sleek furniture in bolder darker colors. Graphic tiles are a very popular choice. Don't forget the value of hidden storage. Hide pots, pans, utensils, and spices with the latest in storage design.  Add innovative custom kitchen cabinets to hide the clutter and give your kitchen a clean updated look. Enjoy an oasis in the most-used room in your house.
Handmade Custom Woodworking
Homeowners tire of cheap plastic furniture and fixtures from big box stores. Instead, they are looking for custom handmade items made of natural or recycled materials. Look for carefully crafted shelving, cabinets, and accessories. Incorporate woodworking into your kitchen design, living room, and even bathroom. Beautiful custom vanities make your bathroom a natural oasis.
Color and Vibrancy
Gone is the desire for sterile rooms without any texture or color. Instead, mix styles and come up with a new Boho vibe. Curved fabrics and softer lines with a vintage touch are popular. Try a woodwork four post bed with rich jewel-toned comforters. Combine rugs and contrast with the walls. Avoid eggshell white walls and embrace life. Primary colors and graphic shapes have made a return both in artwork and choice of carpeting and accents.
Biophilia
Millwork and crafted materials help enhance this connection between nature and humanity. Wood floors, cabinets, fixtures, shelving, and bookcases all help to create an inner sanctum that contrasts vividly with our heavily technology-driven lifestyles. Adding live plants and greenery just adds to this overall connection with our environment.