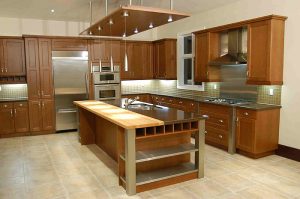 Choosing the right custom kitchen cabinets for your home is an important decision. Before beginning any renovation, it is important to know these key facts about cabinet installation.
The Important of the Layout
Before you purchase your custom kitchen cabinets, be sure that you have the layout that you need. Think of both the practical and aesthetic aspects of your kitchen. Will you want an open floor plan, an island, or a more compact kitchen? Do you need to knock out walls or install special lighting? What about plumbing considerations? Think about how you naturally move in the kitchen. You might find that the sink would be more convenient in another location or that additional counter space is definitely a necessity.
Pots and Pans
Many times it is easy to forget how much we pack into our kitchens. Where will you put pots and pans, pantry items, and utensils? Do you have a pet that also needs a little pet nook for a water bowl and food dish? Where should the trash can be? Try to envision your kitchen fully stocked with groceries, the cutting board, pots and pans, etc. Do you have a place for everything that you need? Speak with your designer about creating custom cabinets to fit your lifestyle.
Function and Space
Where is your kitchen in relation to the living room, dining room, hallway, or bathroom? Be sure that you have a logical flow in your home. You want a seamless transition between rooms. For example, if your breakfast nook looks out to the living room, make sure that the furniture, cabinets, paint job, and accessories all complement, not clash, with your living space. An interior decorator can spend time speaking with you about how to maximize style with your renovation.
Beauty
Yes, you want your cabinets to be attractive, something that you can enjoy throughout your lifetime. Always opt for higher-end design, especially if you plan on living in the home for a long period of time. This will ensure less worry about repair and maintenance. Enjoy decades of beautiful cabinetry in your custom kitchen.