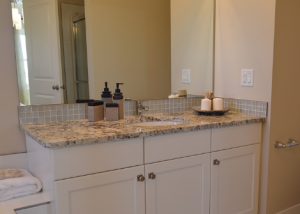 Give considerable attention to your bathroom layout and finish. Your bathroom remodel costs are linked with some key dimensions and common fixture sizes like bathroom vanities. Whether you have a spacious bathroom or an intimate space, create a unique design for your home.
Why Bathroom Vanity Sizes Matter
Why should you care about the size of your bathroom vanity? Believe it or not, the bathroom remodel cost can vary greatly depending on the size of your fixtures. For example, your choice of lighting, tiling, and even toilet placement can be changed if you choose the incorrect vanity size for your bathroom. Those in smaller urban spaces might avoid having to knock down walls if they purchase a vanity with ample storage space.
The right vanity will provide extra aesthetic beauty and practical space for grooming and storage. The wrong vanity size can create a claustrophobic cluttered look or create a messy disaster for your family's morning routine. Your vanity sets the right tone for your overall bathroom design.
Measuring the Vanity
Learn how to properly measure the vanity. Be sure to measure the depth, width, and height of your vanity. Standard sizes vary within the ranges below:
The standard widths for vanities are between one to seven feet (eighty-four centimeters to two meters).
The height is typically thirty-one to thirty-five inches (seventy-eight to eighty-eight centimeters).
The standard depth will be around seventeen to twenty-four inches (forty-three to sixty centimeters)
Additionally, measure the vanity countertop if it is separate. The vanity top is an inch deeper and wider than the cabinet. Speak with our professionals about how to measure your vanity properly for your home. Contact us today. We can help you find the perfect bathroom vanity for your remodel.