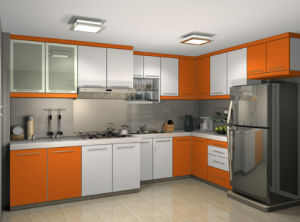 When choosing the right type of cabinetry for your kitchen, be sure to acquaint yourself with the top styles for 2019. Whether you prefer rustic kitchen cabinet ideas or opt for something more minimal and modern, find the right style for you.
Traditional, Rustic, and Country
Enjoy a cozier and rustic feel? Traditional cabinetry often is handcrafted from wood. Color schemes often are simple with wood hues, reds, white, and cream. These kitchen cabinet ideas often have little artisan details and woodwork.
Rustic cabinetry is also made of wood but reflects the more mountain and rural lifestyle. Woods have characteristic natural grains and can be darker. Rugged authenticity exudes from this style. Country cabinets come in raised-panel and bead-board. The wood is offset by doors in pale blue, cream, butter yellow, and mint green. Distressing the façade further adds to the look.
Shaker Cabinets
Simplicity and function are the key components of the shaker cabinet style. The doors are flat paneled. Colors typically are neutral like white and gray. Enjoy casual simplicity and a "clean" look.
Contemporary and Slab
For a much cleaner and modern look, try the contemporary style. Minimalistic and sleek, materials are often manmade. Look for fixtures and finishes in metal, plastic, glass, concrete, and faux wood. These can be customized to fit your space and are ideal for the contemporary urbanite.
Slab cabinets take minimalism to the next level. The cabinets are "flat-panel" and very low maintenance. Ideal for the busy homeowner that wants to minimize upkeep and maintenance. Colors might be neutral in tone or a light pastel to complement the gray.
Craftsman
The Craftsman style highlights quality woodworking and construction. It is an answer to the cheaper mass-production of furniture of the late 1800s. These cabinets are made of oak, cherry, maple, hickory, and other heavy woods. They often remain unpainted. These are sturdy and reliable.
Open Shelving and Glass Front
A newer option in kitchen cabinetry is the open shelving style. When combined with glass doors, the kitchen takes on a more open and spacious appearance. This style is ideal if you wish to showcase a beautiful dinnerware collection or collectibles. It makes for an ornate kitchen. If you wish to temper the style, simply opt for glass doors or open shelving. Live plants complete the look.
Help us find the right cabinetry design to showcase your unique tastes. Call our professionals today. We are ready to help you.