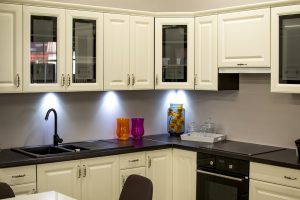 At Bertone Woodworking, we're proud of our long history with woodworking and custom cabinetry.  Quality is our watchword; from simple custom cabinets for basic kitchen renovations to complex, intricate vanities or store fixtures, we create any and all custom woodworking you could possibly want for your home or business.
Our attention to detail, expert craftsmanship and passion for our work drives us to successful projects throughout the Greater Toronto Area.  We take great care in making sure our custom cabinets fit your needs and wants.  To ensure that your cabinets from Bertone Woodworking are exactly what you're looking for, we boast a five-step process.
First there's the consultation.  This is where we meet with you, discussing the goals you have for your space, and going over the various options you have to reach those goals.  There is no such thing as a one-size-fits-all option; the exact specifics of your situation will determine what we can best do to help you.  Our highly experienced staff will work with you, making sure you get the best option for your needs.
Then comes the price quote.  We are up front about all issues and expenditures you will have working with Bertone.  Less scrupulous companies will find ways to tack on hidden fees and extra "surprises" onto your bill.  We'll be up front, discussing the quality of the materials we'll use to ensure your cabinets last a long time, the costs involved with fabrication and installation, and offer a fair, competitive price for the entire project.  That's the Bertone guarantee.
Next, we have the installation.  It's one thing to create cabinets that meet your goals and expectations; it's another to make sure they're installed correctly and safely.  We know that, in most cases, you're still using your home during installation, so we take every effort to do quality work in a quick and efficient manner, minimizing disruption to your home.
Regular communication is something that goes on throughout the lifetime of the project – from the initial consultation straight through to completion.  Plans sometimes change – what you thought might be a great idea during the consultation may not work with a new budget or design ideas.  Sometimes, unexpected issues can pop up during fabrication.  Whatever the case, we believe that communication can make or break a project.  We make sure that you're always aware of updates on your project, and encourage you to contact us with any questions or concerns.
Finally, there's completion.  The work isn't done when the cabinets are installed and we leave your home.  There may be final questions you have – concerns or issues that may arise from the installation or fabrication of your new custom cabinets.  We want to make sure you're 100% satisfied with our work, so we work with you, as partners, until you're fully satisfied.
Every step of our custom cabinetry is filled with the sort of attention to detail that makes us the GTA's top choice for custom woodworking.  Don't take our word for it, though – come check us out today!