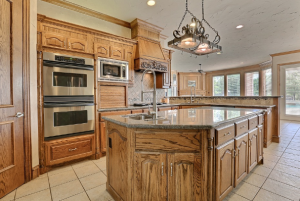 Your kitchen cabinets have a very important role in your kitchen. Besides providing beautiful aesthetics in your home, you use your cabinets for the storage of dishes, spices, vitamins, pots, and pans. Are your cabinets functional? Or are they outdated or broken? A kitchen with cabinets customized to fit your needs and style will bring you joy. But should you refinish, resurface, or simply replace worn cabinets?
Refinishing and Resurfacing Cabinets
When you plan your home remodel, updated kitchen cabinets will be a key component. A kitchen with cabinets that are updated with soft-closing drawers, hidden storage, and an appliance garage will provide you with more efficiency and use. Maybe you have sturdy cabinets but want to redo the style, paint them, or increase their functionality.
A simple upgrade like replacing doors, broken drawers, and knobs might not involve too much work. Then you might want to do refacing or refinishing instead of replacement. In most cases, this will be more economical. However, sometimes older cabinets have serious structural issues that need a full replacement.
Sometimes trying to fix something that has serious functionality problems and aesthetic issues can cost more than a replacement. Speak with your design team about what works best for your home. At Bertone Woodworking we will partner with you to find which option best fits your needs. For example, if you need an accessible kitchen, you might need to replace the cabinets entirely to make them easy to use and reach. Replacing the kitchen countertop will need a professional inspection.
Replacing Kitchen Cabinets
Many times older kitchen cabinets need a full replacement. There are many things to consider. For example, are your cabinets fitted or unfitted? Will you need an upper cabinet or will you choose a more contemporary look? Will you choose face-frame or frameless cabinets. Enjoy a wide selection of high-quality stock cabinets or opt for beautiful custom cabinets. The benefit of custom cabinets involves having a kitchen designed specifically for your individual needs. Select from an almost limitless number of finishes, styles, and paint choices.
Ready to create the kitchen of your dreams? Then call Bertone Woodworking today. Our seasoned team of professionals prides itself on high-quality artistry and excellent customer service. Call us today. We will be happy to partner with you to create the beautiful kitchen you deserve. Contact us.